Welcome to our Surf Her Way ambassador for July Linley Hurrell.

Linley Hurrell, is by definition of water lover and ocean human holding many titles such as; surfer, teacher, activist, artist, surf retail and Saltwater Institute teacher. Linley currently calls the Surf Coast Hinterland home but grew up in rural Victoria, just north of the southern 90 Mile Beach in Gippsland. Coming from a tiny little town on a big stretch of open beach where I learnt to surf when I was very young. To making incredible moves in the surf culture through Patagonia, Surfers for Climate and Surfing Victoria's Indigenous and Women and Girls program. Dive in for one of our best interviews yet.
Hey Linley would you like to give us a little life recap and update?
I currently work for Patagonia, the Saltwater Institute, Surfers for Climate and I also mentor for the Victorian Indigenous Surfing program. My rolls vary, jack of all trades, master of none kinda scenario (haha) but I've just finished up teaching groms at the Saltwater Institute now I'm back focusing on my work with Patagonia and SFC mostly working on the Otway Basin campaign; which in short defending our coastline from expansion of offshore oil and gas fields and the impacts it's having on Victoria's South West coastline.
So it's no secret how intwined surfing is with your life, but would you like to share a little more on how that came to be?
I learnt to surf on the 90 Mile Beach of Victoria where I was taught by my dad who passed on his love and respect for the ocean. I grew up around the towns of Traralgon and Sale – very non surfing communities and started working in the local surf shop when I was 14. I was completely obsessed with surfing, I loved it's counterculture nature and I wanted to be part of that, but growing up where I did, it wasn't realistic and it was always met with negative attitudes from most. I did the responsible thing and went to university and became qualified as a secondary Geography and Environmental science high school teacher – the only subject I kinda excelled at in school. Even while at Uni I was president of the Monash Boardriders Club and bought home the surfing championship trophy in Australian Uni Games for the club.

I moved to the Surf Coast when I was about 21 to continue at uni and surf as much as possible. I worked as a surf coach for a few years with a local surf school before I found a job as a teacher. I loved teaching – to this day it was still my favourite job, but I was unluckily involved in a freak accident resulting in a Traumatic Brain Injury (TBI) and severe Post-concussion syndrome which put an abrupt end to my short teaching career. Long story short, I was told the best thing I can do for myself and my recovery was to surf – due to my brains response to physiotherapy. It was slow to begin with, 20-minute surfs with days to recover before surfing again, to being able to surf for a few hours at a time, until fast forward today to getting a spot in the trials for the Ripcurl Pro. Because I couldn't work as a teacher, my Occupational therapist wanted me to return to work, but it needed to be a sedate environment that I could manage with a TBI, so I went back to working in a surf shop, for Patagonia, haha and the rest is kind of history!
Where do you surf most? And what's in your go to quiver?
I'm not big on crowds, but you'll usually find me at a quiet reef or beachy anywhere from Torquay (Wadawurrung country) to Gippsland (Gunnai Kurnai Country) where I grew up. I mostly ride performance shorties and twin fins and variations of those two boards ; I work with Corey Graham and FCD to come up with the boards under my feat, but currently a 5'5 CGS HP thruster and a 5'2 FCD Mako twin are my go to boards at the moment.
What does surfing mean to you?
Everything. The ocean has literally given me everything. It sounds cliché, but it has. It has given me my health and wellbeing, my connection to country, my love of protecting our oceans and my career.
Can you tell us about one of your favourite surfs?
I always remember my first surf after my Traumatic Brain Injury. I was still really sick; I could barely leave my bed or walk more than 100m. But my house mate wanted to learn to surf, and my partner bought me down to Juc to watch and help from the beach just to get me out of bed. It was hard to watch perfect 2ft Juc lefts go through unridden. When my housemate gave up, my partner agreed that I could paddle out and get one wave. It was like October, and I stripped down to my underwear and T-shirt cause that's all I had on me, it was freezing. I got smashed on my 2 first waves, getting dizzy and rattled from not surfing and being so ill. But I was determined to get one, and the next wave I got this perfect little Juc left and it was like my brain just remembered what to do, like as if surfing was instinct. I paid for that one wave for days, after overexerting myself and my brain, but I lived off that one wave for so long. I had been so depressed due to my injury, but that one wave made me so happy to know I hadn't lost surfing, after all that I had lost because of my injury.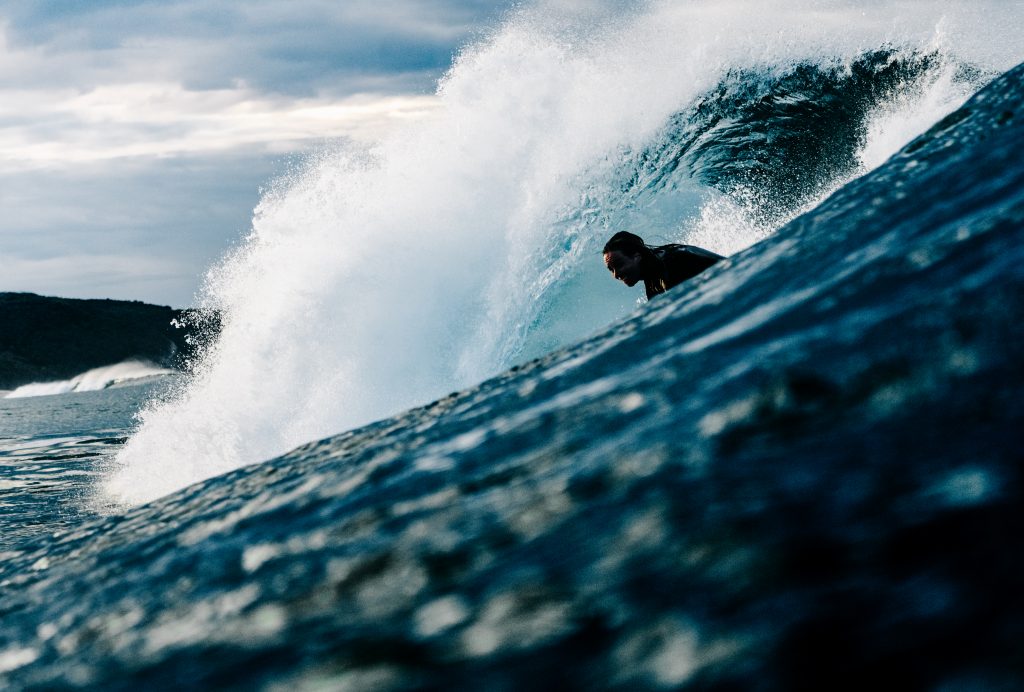 What makes you feel most confident/comfortable when out surfing?
Good question! I think I'm most comfortable when I'm having fun surfing. It's that age old saying the best surfer in the water is the one having the most fun. But on the flip side, surfing isn't a comfortable sport, it's hard, you get hurt, it gets cold, especially here in Vicco. If you can deal with all that discomfort then you have no reason not to be confident, you're already doing what most wouldn't.
What inspires you to surf? What is something that you are striving for in your surf journey?
The next generation for sure. I want to show girls out there that you can succeed in surfing no matter your background, or where you grew up, or what you look like, or who told you can't make a career out of surfing. I want to break down those barriers and make those girls feel confident about taking up space in the male dominated world of surfing.
What excites you most about elevating the representation of women and girls in and out of the water?
Everything – every year at the Saltwater Institute the progression of the female groms in the program is unreal to watch, these girls are amazing and with them coming through the ranks now, the future of Women's surfing looks bright.