The 59th running of the Rip Curl Pro Bells Beach will take place from April 10 – 20, 2022.
Featuring a world class field including Steph Gilmore, Carissa Moore, John John Florence, Italo Ferreira, Morgan Cibilic and Sally Fitzgibbons, the event is a celebration of surfing in the spiritual home of surfing in Australia.
The Rip Curl Pro Bells Beach will only run on days of suitable surf within the event waiting period. A call is made each morning by the WSL Commissioner on the day's schedule. This is generally done at 7.30am and published on www.worldsurfleague.com or via the WSL Instagram page
Tickets for the event can be purchased at the gate from the first day of the waiting period.
Ticket Prices:
Festival Pass – $35 (Consession – $10)*
Day Pass – $10 (Consession – $5)
Car Parking – $5
Kids (Under 16) – Free
Surfing Victoria Members recieve free entry into the Rip Curl Pro. Not a member? Sign up here
*Due to capacity limitations at Bells Beach, Festival Passes do not guarentee entry on the day. Capacity limitations are put into place to ensure the continued preservation of the Bells Beach surfing reserve.
Please note all Rip Curl Pro patrons must be fully vaccinated or have a valid medical exemption to enter the Rip Curl Pro event site as per Victorian Health guidelines.
Unfortunately, no dogs are allowed on site.
We kindly ask you to please observe all road signs when entering and exiting the event, there is a large amount of local wildlife who live in the area. Please slow down and take care to help protect our local wildlife.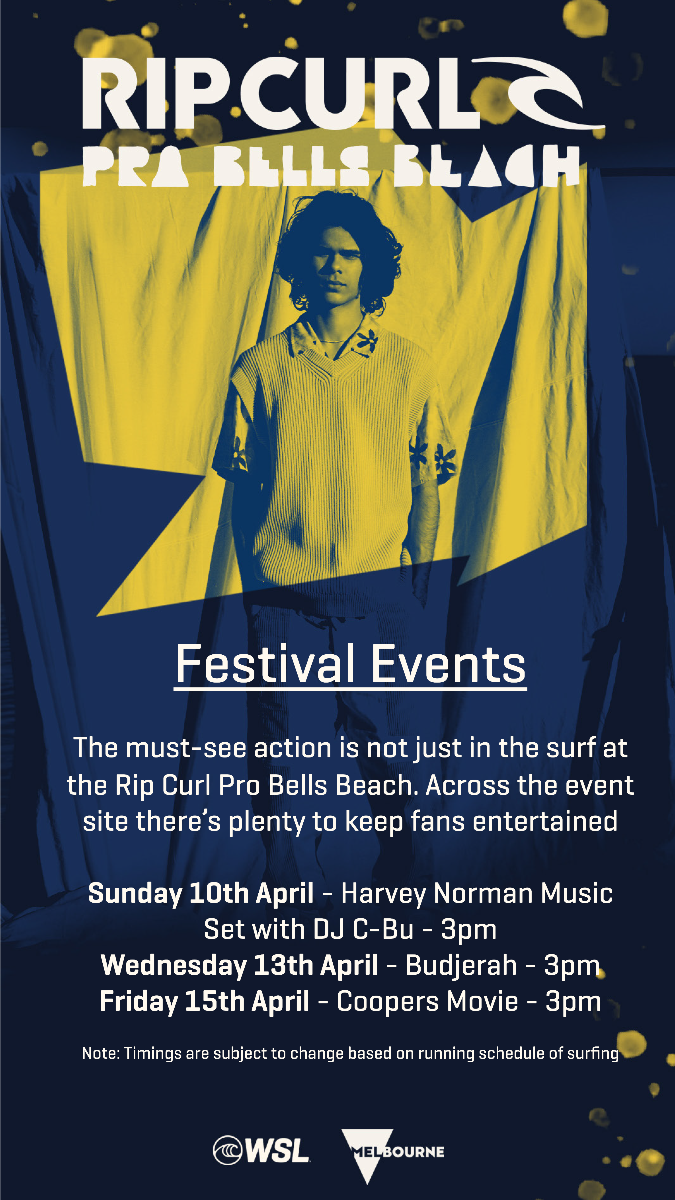 Rip Curl Pro Shuttle Bus Service
Friday 15th April 8:30am – 5:30pm
Saturday 16th April 8:30am – 5:30pm
Sunday 17th April 8:30am – 5:30pm
Monday 18th April 8:30am – 5:30pm 
Hourly services from Rip Curl Car Park (on the half hour)
Rip Curl Store, Torquay
Stop at Wyndham Resort Bus Stop
Stop at Peppers The Sands Resort Bus Stop
Stop at Doc Hughes/Front Beach Cafe Bus Stop
Stop at Bells Street Art Gallery Bus Stop
Stop at Bird Rock Cafe
Stop at Rip Curl Pro Event Site
*Note: daily service may cease earlier if event is called off for day.
Victorian Rip Curl Pro Trials 2022
The Victorian Rip Curl Pro Trials will take place on Thursday April 7 at Bells Beach.
One lucky Victorian surfer each year gets the chance to go up against the world's best surfers at Bells Beach thanks to the Victorian Government and the Rip Curl Pro Victorian Trials.
The event will feature the top Victorian Male surfers with the top Victorian Female surfers also vying for a spot in the Rip Curl Women's Trials that will grant the sole wildcard into the Women's main round.
Former Trials winners include Adam Robertson, Nic Muscroft, Glyndyn Ringrose, Jack Perry, Carl Wright, Zoe Clarke, Nikki van Dijk, Cahill Bell-Warren, Tim Stevenson, Harry Mann and Joe van Dijk.
Competitor information and allocations can be found here